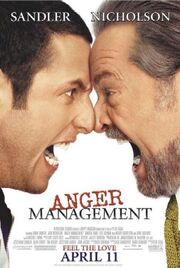 Anger Management is a 2003 American slapstick comedy film directed by Peter Segal, written by David S. Dorfman, and starring Adam Sandler and Jack Nicholson. It was produced by Revolution Studios in association with Sandler's production company Happy Madison Productions and was distributed by Columbia Pictures.[1]
Mild-mannered timid businessman Dave Buznik who works for a pet clothing company out of New York City. He's got an abrasive boss named Mr. Frank Head who frequently takes credit for his work and steps on him in return. He's got a loving girlfriend, Linda, whose best friend is her condescending college ex, Andrew. But when a misunderstanding aboard an airplane goes haywire, Dave is ordered by the court to undergo anger management therapy at the hands of specialist Dr. Buddy Rydell, who is an unpredictable, psychopathic character. As the relationship between Dave and Buddy becomes more tense, when the unorthodox treatment wreaks havoc Dave's life, and Buddy might be the only one who can save him from a problem he recognizes right away in his patient, that could only get worse.[2]
Adam Sandler as David "Dave" Buznik
Jonathan Osser as Young Dave Buznik
Jack Nicholson as Dr. Buddy Rydell
Marisa Tomei as Linda
Luis Guzmán as Lou
Jonathan Loughran as Nate
Kurt Fuller as Frank Head
Krista Allen as Stacy
January Jones as Gina
Clint Black as Massuer
John Turturro as Chuck
Lynne Thigpen as Judge Brenda Daniels
Woody Harrelson as Galaxia the tranvestite prostitute/Gary the Security Guard
Kevin Nealon as Sam, Dave's Lawyer
Allen Covert as Andrew
Nancy Walls as Patty the Flight Attendant
John C. Reilly (uncredited) as Older Monk Arnie Shankman
Alan James Morgan as Young Arnie Shankman
Heather Graham (uncredited) as Kendra
Harry Dean Stanton (uncredited) as Blind Man
Horatio Sanz (uncredited) as Actor (in-flight movie)
Jake Busey (uncredited) as Actor (in-flight movie)
Jerry O'Connell (uncredited) as Actor (in-flight movie)
Isaac C. Singleton Jr. as Air Marshal[1]
References
Edit
Ad blocker interference detected!
Wikia is a free-to-use site that makes money from advertising. We have a modified experience for viewers using ad blockers

Wikia is not accessible if you've made further modifications. Remove the custom ad blocker rule(s) and the page will load as expected.